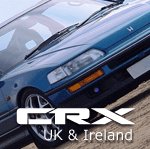 Members Cars
Simon Dew - Oxfordshire

Red 1990 1.6 16v - ALB, 110k miles

Aluminium mesh behind bumper to protect radiator. Snap-Off SWM Steering wheel, Alarm and Immobiliser.
John Urch - Dublin, Ireland

1989 JDM Honda CR-X 1.5X

Exterior: APC Projector Headlights with Xenon HID bulbs, APC Altezza rear clusters and centre section, APC clear front indicators, clear side repeaters, shaved antenna -replaced with- Bee-sting antenna, delocked doors, full respray in Silver Pearl, Electric retractable CRX SiR mirrors, Mugen spoiler with LED brake light, mesh in front bumper.

Interior: Leather Momo steering wheel, Konig V Short Shifter, Momo Cobra gear knob, 1991 CRX Seats with CRX Decal, OMP pedal plates.

Engine: D15B Dual Carb engine, DC Sports DAC Intake, Magnecor ignition leads, NGK Platinum plugs, detailed valve cover, K&N crank case breather, bit of port & polishing.

Exhaust: Custom 3" centre section with cat removed, Janspeed back box.

Suspension: Eibach Pro Kit springs, KYB Blue shocks, Energy Suspension bushings, Sparco strut braces, Integra XSi rear sway bar.

Alloys: Replica OZ Super Turismo 15", 195/50 Goodyear Eagles.

Brakes: EBC Turbo Grove Discs, EBC Greenstuff pads, Goodridge stainless steel braided brake lines.

ICE: JVC, Alpine, Pioneer, American Pro
Iain Edwards - West London

Polar White 1988 1.6i 16v - 78k miles

ITG filter with resonator modifications, short shifter with Neuspeed bushes, Momo race steering wheel, Type-R gearknob
Bur - Hertfordshire

90 JDM Black SiR - 50K

Power steering, Anti-lock braking system, Limited slip differential, Climate control, Full electric pack (windows, mirrors, climate control),Avanti Motorsport LSD, Janspeed (decat.) exhaust, Superchip (also delimited), Spats upper front strut brace, 15" Alloy wheels, Red Dot cross drilled disc and RaceRoad pads, Lowered 1.5", Thatcham category 1 immobiliser + additional alarm and immobiliser, pioneer CD Head Unit. 176 BHP at the flywheel
Tim Brown - Dronfield, Derbyshire

White 1991 1.6i VT 103k miles

16" TSW Stealth wheels
Goodyear Eagle F1 tyres (205-45-16)
EBC Turbo-Groove disks - EBC Greenstuff V4 pads
JVC and Pioneer ICE
Alarm and Immobiliser
Andy Goodger - Christchurch, Dorset

88 1.6-16v - 85k miles

NeuSpeed strut brace, Pi springs(-35mm), Kenwood ICE, 195/45/R16 Pirelli
Drago tyres, Momo wheel & gearknob, Millia Miglia Spider alloys, Black
Diamond drilled discs, EBC Green Stuff pads, and full re-spray in Rio Red,
NGK plugs,and a car bra!
Alan Watkins - Belfast NI

JDM si - in very good condition - 62000k (i think original) joe sport alloys - sony cd player & clairon speakers. 15" joe sport alloys - not a lot of mods on the car but good original condition.
Paul Beasley - Berkshire

1992 1.6i-VT, Vogue Silver - 80k miles

15×7 OZ Polaris wheels, Janspeed Performance exhaust, ITG ProFilter, intake resonator detached and airbox drilled, EBC Turbo Grooved/Spotted discs (front) with EBC GreenStuff V4 pads, Momo Race steering wheel & gearknob, Pioneer CD/tuner, sunroof replaced, roof resprayed, sills de-rusted and resprayed, rear arches de-rusted and resprayed, bonnet de-stonechipped and resprayed, personal number plate, security fitted.
Paul Lennox - Poole, Dorset

1991 1.6i 16v

Its got 16" OZ supperleggeras, its been lowered 40mm, K&N 57i induction kit, a small ice set up, and the car is fitted with Clifford security.
Aaron Oliver - Ireland

CRX 1992 1.6 16V

ENGINE: 1590cc 16 Valve, K&N Air Filter, Full Powerflow custom stainless exhaust with dual exit oval tailpipes.
TRANSMISSION: Standard Honda 5 speed box, fully overhauled with adjusted gear ratios.
SUSPENSION: Lowered 50mm on Eibach springs, Uprated shocks & dampers. WHEELS: 7.5" x 17" ACE 198 Alloys with 205/40/17 Yokohama A520s ( one of only 2 sets in Ireland)
EXTERIOR: MK3 VW Golf front splitter, Clear front indicator lenses, Mercedes clear side repeater lenses, V-TEC rear lights, V-TEC Rear bumper modified to
accommodate dual exit tail pipes, Honda rear spoiler
INTERIOR: CRX embossed sports seats & mats, Alloy gearknob, Leather gear gaiter.
ICE: Sony CD Headunit, Kenwood 5.25" Door speakers, Alpine 6x9s in rear side
panels, Kenwood KAC 715 Amp, 2 12" Kenwood 400W Subs in custom
enclosures
SECURITY: Clifford Concept 300 Thatcham Cat 1 alarm with dual zone exterior
proximity sensors
PERFORMANCE: 140BHP (approx.), 0-60 in 8 seconds, Top Speed 135mph (approx.)

Angela Hooton - Nottingham
1991 1.6 16v

Exterior: Projector headlights, clear indicators with silver vision bulbs, clear side repeaters, front foglights, mesh in front bumper
Interior: Momo Commando wheel
Engine: DC Sports DAC induction kit, Magnecor ignition leads, Samco coolant hoses
Exhaust: Mongoose 3" twin exit
Alloys: 16" BK Racing 7 spokes with 195/45 Pirellis
Brakes: EBC Turbo Grove Discs, EBC Greenstuff pads at front, EBC Kevlar pads at rear, Goodridge stainless brake lines
ICE: Sony head unit, Kenwood speakers front and rear, 10" Kenwood sub, Kenwood amp and CD changer
Security

Harry Charnock
1990 CRX VT

I have only owned a crx 8 months, and have loved every minute of it, its a
1990 silver vtec, the engine is still standard.
SUSPENSION: Lowered 45mm, KYB uprated shocks.
WHEELS: Kosei Rag's 17x 7.5 black chrome Alloys.
Avon ZZ1's 205/40/17's.
EXTERIOR:Front number plate housing removed replaced with small plate
40% window tint.
INTERIOR: Sparco polished, leather/Alcantara steering wheel, Cammero gear
knob, Custom Alcantara dash, with, Alcantara Gear Gaiter.
ICE: SONY MDX CA690 head unit, 6 MD Changer, Phoenix Gold XS2500, XZ400s
Amps, Focal 6.5" and DLS 5.5" Components front and rear, JL Audio 12W6
Subwoofer, Phoenix Gold RCA's throughout, trimmed in Alcantara.
I have plans to install Pioneer AVD-W6010 windscreen with a
playstation2providing funds?!

Sab - London
1992 JDM Honda Crx SI

This is my 4th crx and I just love these cars, so petit yet so powerful

1992 JDM Honda Crx SI 1590cc, 16valve, 84k miles It has a 15" rare wheels which I can figure out right now Cat 2 clifford alarm and immobiliser with remote central locking No sunroof but with the extras: A/c and PAS Sony cd and the Xplod bass box comes with amp

Its a stock SI and it performs well enough as at now. 0mph to 120mph from standing start, wow real pretty for an import. Needs delimiting to experience wot this machine has to offer

To add your car to this page, please email Simon with the details you would like printed and if you have a photo available you can either attach it to your email or send us a web link for the picture.